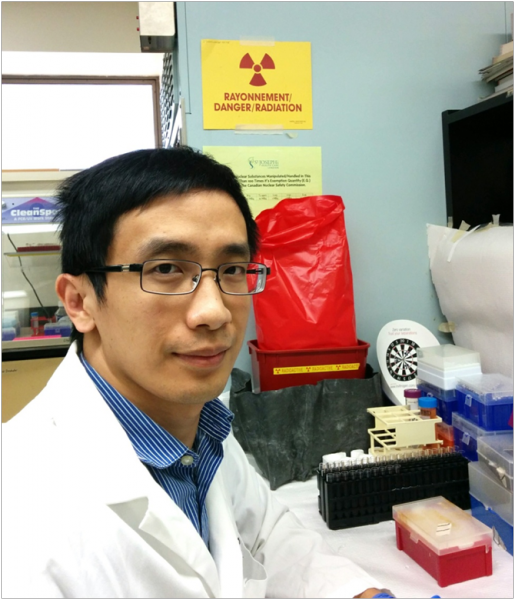 Joined Health Research Institute
2018
Education
Ph.D. in Medicinal Chemistry, Sun Yat-sen University
Postdoctoral training at the University of South Australia
Appointments and Affiliations
Present
Research Chair, Lakehead University-Thunder Bay Regional Health Research Institute
Scientist, TBRHRI
Website
Contact
Email: houj@tbh.net
Dr. Jinqiang Hou
Lakehead University/Thunder Bay Regional Health Research Institute Research Chair
Dr. Jinqiang Hou joins the Health Research Institute and Lakehead University from the London Health Sciences Centre in London, Ontario, where he worked as a Postdoctoral Research Fellow. He completed his Ph.D. in Medicinal Chemistry, Department of Pharmaceutical Sciences, at the Sun Yat-sen University in China.
Dr. Hou's research has centered on the discovery of Positron Emission Tomography (PET) imaging agents for targeted cancer diagnostics, with a particular focus on the development of Fluorine-18 labeled chemical entities for potential use in the imaging of various diseases using PET. Dr. Hou plans to develop his research further by focusing on radio-tracer/drug discovery for targeted cancer diagnostics using PET, with the goal of contributing to the integration of PET imaging into drug discovery.
The arrival of Dr. Hou is part of the Health Research Institute's plan to recruit three new scientists in radiochemistry, biophysics, and smart health technology. The positions, which involve joint appointments at Lakehead University, will build on the Health Research Institute's strengths and prepare for a new era of health care, particularly in relation to health technology in remote regions and addressing the Indigenous population's health disparities.