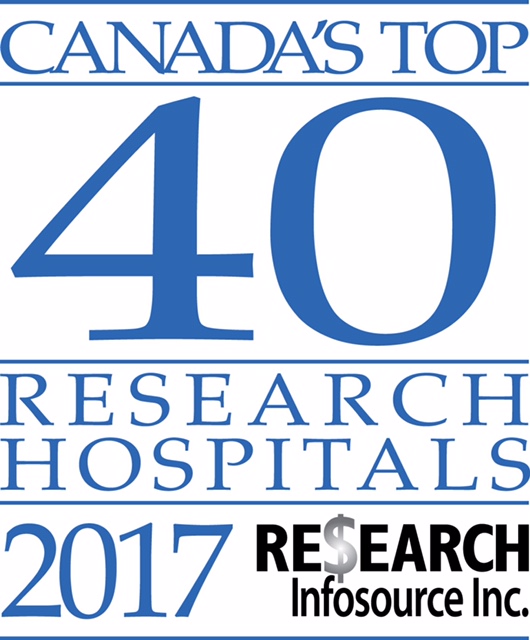 After debuting on the list of Top 40 Research Hospitals in Canada in 2010, Thunder Bay Regional Health Sciences Centre continues to rank among the leading health research institutions in the country.
Seven years ago, our Hospital appeared on the list for the first time, entering at #40. This year, Thunder Bay Regional Health Sciences Centre occupies the #38 position.
The research activity that catapulted our Hospital into Canada's Top 40 Research Hospitals is attributed to the ongoing success of our research arm, the Thunder Bay Regional Health Research Institute, and to internal anhttp://www.tbrhri.ca/wp-admin/themes.phpd external partnerships.
"To be recognized as one of Canada's Top 40 Research Hospitals for a seventh consecutive year is not only a great accomplishment for our Hospital and Health Research Institute, but also a source of pride for our community and the stakeholders and donors who support us", said Jean Bartkowiak, President & CEO of the Hospital and CEO of the Health Research Institute. "Our research aims to improve patient care in Northwestern Ontario and to make our region healthier, wealthier and smarter."
A robust health research program is vital to advancing our academic mission but more importantly, to improve the health of the population. It provides patients with the opportunity to participate in research activity that helps design the care of the future and to access equipment at the frontier of medical technology development, such as the PET/CT scanner, used to diagnose lung cancer, the 3T MRI machine, combined with a polarizer to conduct gas imaging for lung disease and dementia, and the cyclotron, which will eliminate the Hospital's dependence on outside sources of radioactive isotopes used for specific diagnostic imaging procedures.
The Hospital serves a region that faces many health challenges, including distance to health care services and poorer health outcomes. Dr. Abraham (Rami) Rudnick, VP of Research at the Hospital, and Chief Scientist at the Health Research Institute, sees technology as one of the keys to overcoming Northwestern Ontario's geographical barriers to health care delivery, "Mobile technology for remote access to health services can help improve health outcomes considerably. We want to do more, and do it in a more timely fashion: early detection, early intervention. Technology can help us do that as close to home as possible," said Rudnick. "The Health Research Institute can continue to grow as a leader when it comes to using technology to improve health outcomes considerably."
Donations to the Health Sciences Discovery Fund of the Thunder Bay Regional Health Sciences Foundation support the activities of the Health Research Institute. To help Bring Discovery to Life, visit www.healthsciencesfoundation.ca
Canada's leading research hospitals, hospital networks and health authorities spent a total of nearly $2.53 billion on health research in Fiscal 2016. According to Canada's Top 40 Research Hospitals
List 2017 which was released last week, research income includes all funds (direct and indirect) spent on all sources (internal and external) to support research.
The Top 40 list is a compilation by Research Infosource to emphasize the very important role that hospitals play in Canadian medical research.
Canada's Top 40 Research Hospitals List 2017 is available on the Research Infosource website: http://bit.ly/Top40ResearchHospitals2017