July 22nd, 2022 by Raiili Pellizzari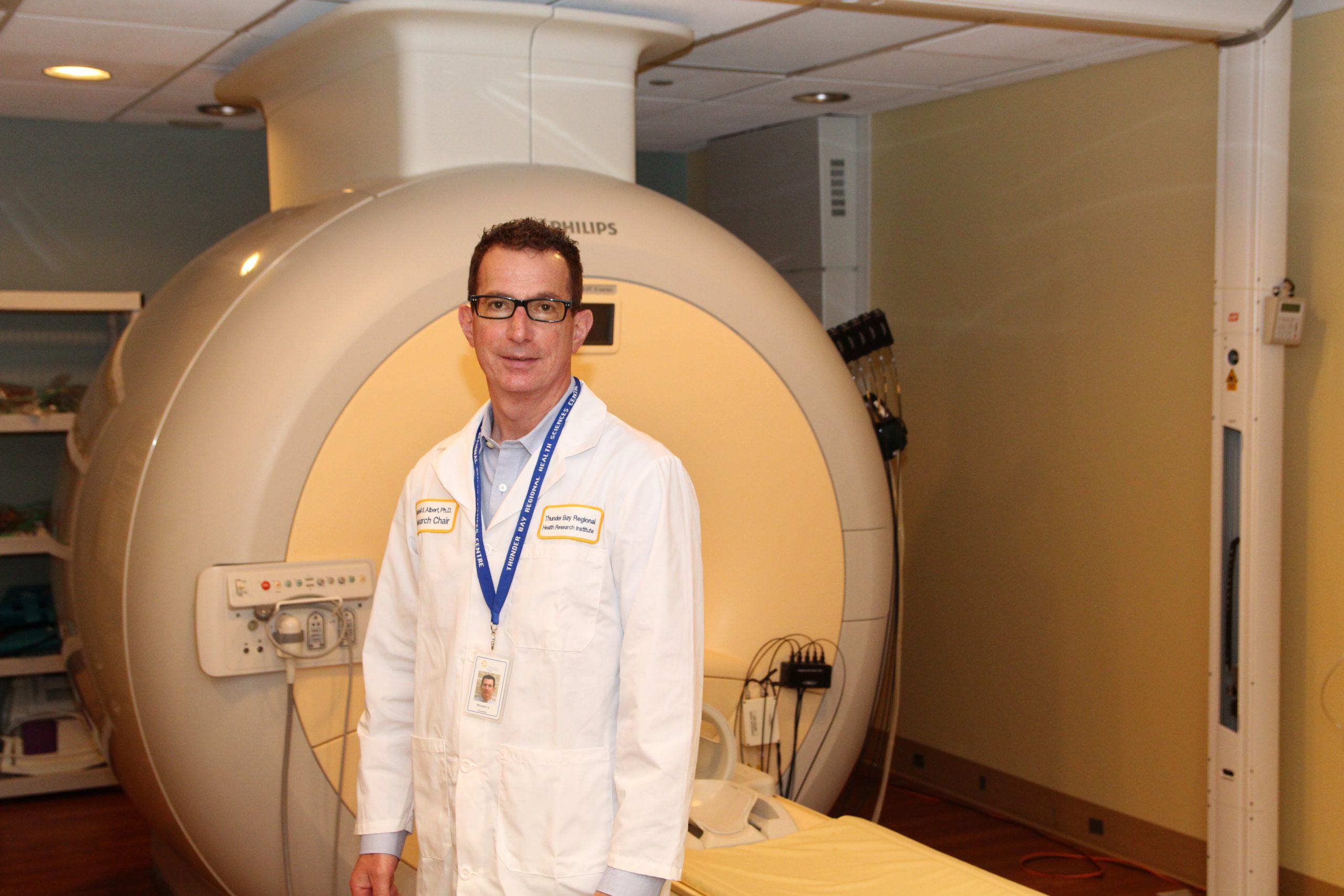 In a multi-site study funded by the Ontario COVID-19 Rapid Research Fund, scientists discovered a clue into the cause of post-acute COVID-19 syndrome (PACS), also known as long-COVID.
Led by Grace Parraga, Professor and Tier 1 Canada Research Chair at Western University, researchers used novel lung imaging techniques to investigate gas exchange in the lungs of people suffering from long-COVID. This exploratory study used hyperpolarized xenon-129 magnetic resonance imaging (HP 129Xe MRI) and computed tomography (CT) scans to visualize the flow of oxygen through the lungs and where it is blocked.
The use of the HP 129Xe MRI technology is based on the technique co-invented by Mitchell Albert, Lakehead University—Thunder Bay Regional Health Research Institute Research Chair in Molecular Imaging and Advanced Diagnostics. As a graduate student at The State University of New York at Stony Brook, Albert co-invented this powerful diagnostic technology that allows you to see how the lungs are functioning in real time. Since then it has been applied to several important biomedical areas, including this study.
"It's really gratifying to see that after 25 years, our invention now is turning out to be important in the use of discovering what is happening in patients with post-acute COVID-19," says Albert. "Not a lot is known about long-COVID yet. People have these lingering symptoms lasting months and months, and no one really understands why this is. This study starts to shed light on what is happening in the lungs, what the problem is, and the fact that there is indeed a physical problem."
Albert is referring to the fact that for people with long-COVID can suffer from symptoms including shortness of breath, brain fog and fatigue, where traditional methods of assessing the lungs (i.e. pulmonary function tests, CT scans, chest x-rays) may not indicate there is an issue in the lungs. Using HP 129Xe MRI changes that.
"You can think about hyperpolarized xenon like a tracer that allows you to see how the gas behaves within the lungs. So by using the HP 129Xe, we are able to trace the pulmonary gas exchange and literally see how oxygen is transferred into the bloodstream," explains Yurii Shepelytskyi, post-doctoral researcher in Albert's lab. "In this study, we looked at post-acute COVID-19 syndrome to see how the gas transfer changes in subjects who had COVID-19 and who were previously hospitalized over those people not hospitalized. We found that the amount of gas transferred into the blood is significantly smaller in subjects who had COVID-19, indicating a gas transfer impairment."
Albert's team at Lakehead University / Thunder Bay Regional Health Research Institute is one of five sites conducting research for this study. In this collaborative study, the impaired pulmonary transfer has been correlated to pulmonary vascular changes detected by CT scanning. This initial discovery is important as in order to develop treatment options for patients with long-COVID, the source of the issue must be identified.
"Next steps are to continue the research and follow up with the patients to determine if they have fully recovered, or if their symptoms persist. This information will be useful to health care providers to provide guidelines for treating patients with long-COVID," says Albert. "We are very excited to be a part of this groundbreaking study that will help people all across the province and beyond. Thank you to TBRHRI for allowing us use of the 3T MRI, and to Lakehead University for providing seed funding that allows us to do this incredible work right here in Northwestern Ontario. Finally, I am grateful to the Ministry of Health for making this research possible and to Grace Parraga, the study leader, for inviting us to participate."