April 7th, 2020 by Graham Strong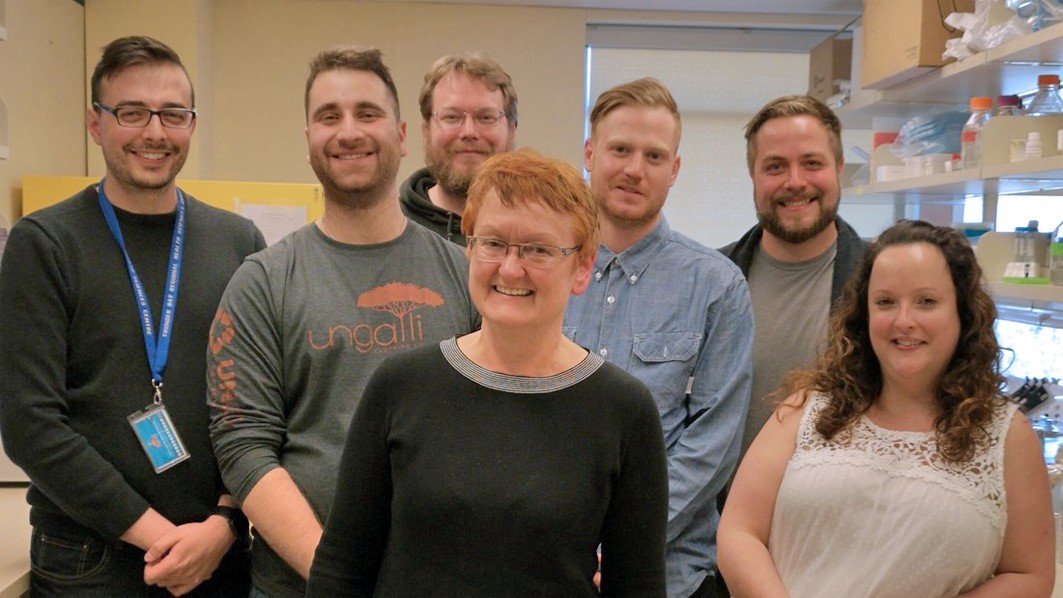 Dr. Guillem Dayer is part of the "new wave" of young scientists in Thunder Bay. Two years ago, he moved here to join the Zehbe Group at the Thunder Bay Regional Health Research Institute. He saw working with Dr. Ingeborg Zehbe as a great opportunity. And the story of how he got here is fascinating.
Dr. Dayer grew up in the east-central African country of Burundi. His family moved back to his father's home country of Switzerland in 1994 during Burundi's civil war. He studied biology at university (École Polytechnique Fédérale de Lausanne); malaria and giardia, both parasites common to Africa, were obvious research interests for Dr. Dayer.
"That's what triggered me to work in the parasitical field," he said.
Dr. Dayer came to Canada to continue his studies and earned his PhD from Trent University in 2017. He joined the Zehbe Group two years ago on a postdoctoral fellowship to research cervical cancer and oral cancer. What attracted Dr. Dayer was the role of proteins from the human papillomavirus (HPV) in those diseases and how to target them effectively.
"I was always specifically interested in working with proteins," he said.
Last November, Dr. Dayer was awarded a prestigious Mitacs grant to investigate how to prevent the E6 protein in HPV from blocking a cell's immune system. Normally, an infection will trigger an alarm in a cell to stop the spread. But E6 blocks that alarm. The infection multiplies and causes more mutations, which can lead to cervical and other cancers. Dr. Dayer's research will try to find a way to interrupt the E6 protein and turn the alarm back on.
His work builds upon research by Dr. Ingeborg Zehbe, as well as two other of her mentees, Dr. Melissa Togtema and Dr. Robert Jackson. Their research, funded in part by the Health Sciences Foundation, helped discover that the E6 protein is the main culprit in cervical cancer development.
Dr. Togtema and Dr. Jackson are also a part of our new wave of scientists. Unlike Dr. Dayer, they are local – something that would be unheard of even 15 years ago. Dr. Togtema grew up in Manitouwadge and completed her Honours Bachelor of Science degree at the University of Toronto before moving back to study with Dr. Zehbe. She received her master's degree in August 2013 and then her doctorate in November 2018. Dr. Jackson grew up in Thunder Bay and got his Honours Bachelor of Science at Lakehead University. He joined Dr. Zehbe's lab in 2010 and received his master's degree in 2012 and his doctorate in May 2019. He moved to become a Postdoctoral Research Associate at the University of Arizona.
Dr. Dayer may not be local originally, but he plans to make Thunder Bay his home. With Thunder Bay's unique research partnerships between the Health Research Institute, the Thunder Bay Regional Health Sciences Centre, Lakehead University, NOSM, and others, it's an ideal research environment for him.
"I felt like there was a lot of potential here for this project," he said. "We can't do research solely in a university or lab setting. We'll need to work with a medical facility (for clinical trials) at some point."
Dr. Dayer hopes to secure a professorship at Lakehead and continue his research here.
You can help support local research, too! Donate online at healthsciencesfoundation.ca/donate-now or call our Donation Centre at (807) 345-4673.