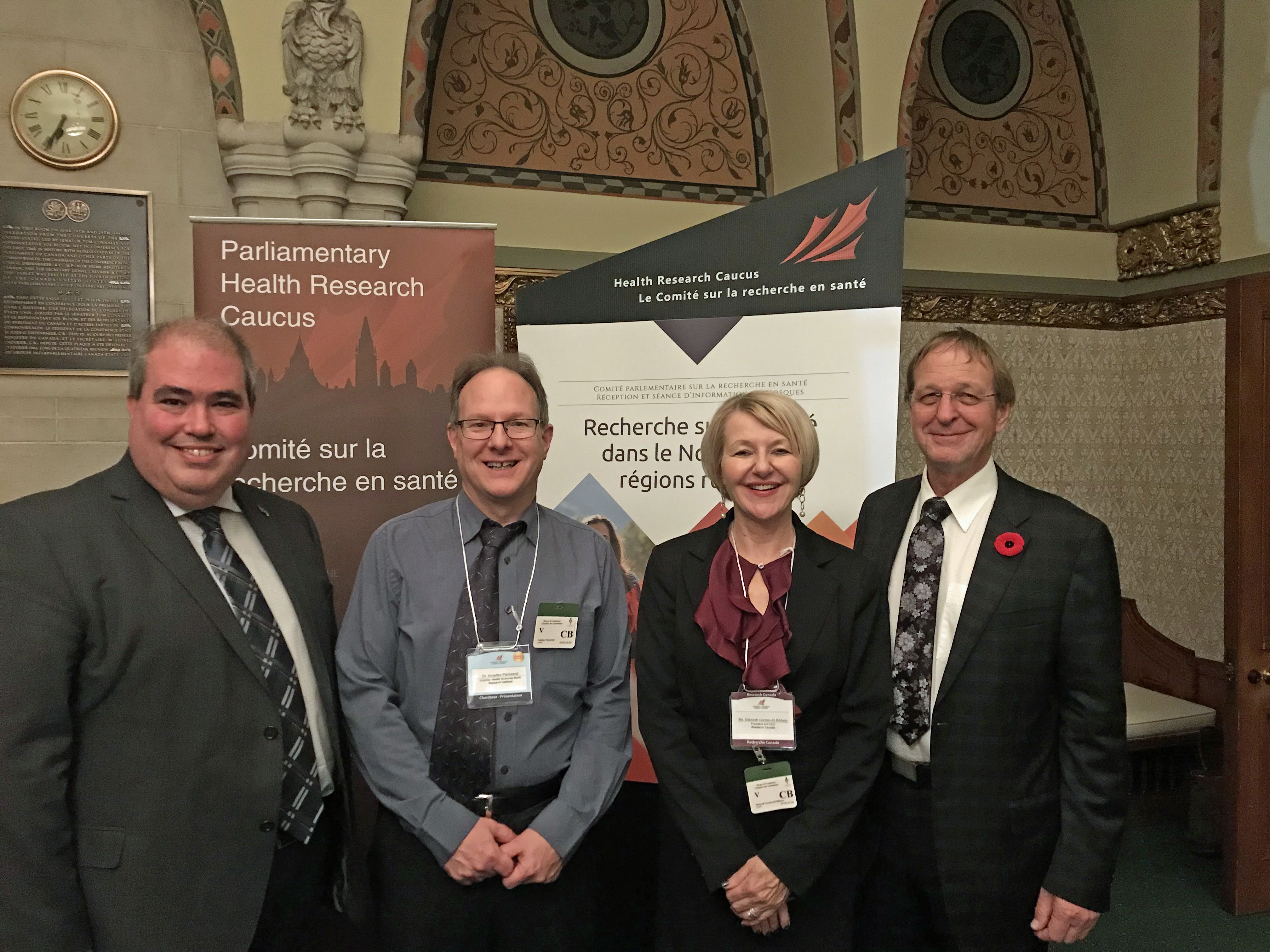 Jean Bartkowiak, President and CEO of the Thunder Bay Regional Health Sciences Centre and CEO of the Thunder Bay Regional Health Research Institute, represented both organizations at this year's Northern and Rural Health Research in Canada reception in Ottawa on October 30th. Mr. Bartkowiak was there to address colleagues in health research, while bringing attention to the patient-centred research at our Hospital and Health Research Institute.

The Thunder Bay Regional Health Research Institute is distinct. Until very recently, health research facilities of this calibre would be housed in a major metropolitan centre. Our Health Research Institute allows health research to grow in and address the specific needs of a remote and rural environment. Indeed, our scientists found that Thunder Bay's size and status as a regional hub have tremendous advantages, particularly access to collaborators.
We are able to focus our research to address the health care challenges unique to our region.
For example, smart health technology research can assist in overcoming several of Northwestern Ontario's geographical barriers and cultural differences that impact access to care and outcomes. It can help us streamline and improve access to care so that we are able to provide the right care to the right person at the right time, no matter where they live in the region.
Northwestern Ontario is home to about 250,000 people scattered over an area the size of France. This includes 69 First Nation communities, more than 30 of which are very remote, with no road access.
Access to health care services can be difficult; so difficult that some people go without.
Today's patients' experience, although not as dramatic, is still very challenging. Maureen Lux, in her well researched book, 'Separate Beds', described our Indigenous forefathers' experience with the health system, stating: "Shipped from their homes like spoiled cargo, patients often found themselves isolated by culture and language, unable to understand their situation, their treatments, or their prognosis".
Today, we can consider Angela Moonias, a fictional person who represents many real individuals. Angela lives in Marten Falls First Nation, a community of about 330 people, located 500 kilometers northeast of Thunder Bay.
Angela is 67 years old, and looks after her husband, whose leg was amputated as a result of diabetes. In Northwestern Ontario, indigenous people are three times more likely to have a limb amputated. She also cares for four of her young grandchildren, because their parents are struggling with addictions. Addiction rates in First Nations communities in northwestern Ontario are higher than anywhere else in Ontario; some communities have 80% addiction rates.
Angela has a pacemaker, the result of cardiovascular disease; yet another chronic disease with higher rates in our region. Every six months, Angela has to have a routine check on her pacemaker. For her, this means completing several forms to secure travel approvals from Non Insured Health Benefits department.
It also means she has to make extensive and sometimes complex travel and accommodation arrangements and ensure other community members care for her husband and grandchildren while she is away.
Angela will travel on a small plane for five hours, stopping in another community along the way, changing planes in Sioux Lookout, and finally arriving in Thunder Bay two hours later. That is, if the weather is ideal and the planes leave. If it isn't, she will miss her appointment with her specialist and have to start all over again at a later date.
In Thunder Bay, Angela faces language and cultural barriers as well as related social stigma. She is scared because she does not understand the complicated health care system, doesn't know who will pick her up at the airport, and is overwhelmed by the size of and activity at our Hospital. She can't help but think of her experience in residential school, and the abuses she suffered at the hands of people who were supposed to care for her.
She is worried that someone will forget to get her grandkids their breakfast. She wishes she could be at home.
Our Health Research Institute is working for Angela, and those with stories like hers. With a focus on meeting the needs of the people of northwestern Ontario, and on smart health technology, we will make a different, better future for Angela.
We can see a day, not too far away, when Angela can go about her day, caring for her family, in her own community, while her pacemaker broadcasts data to our Hospital.
We see a positive future when Angela and her husband may use a phone app to better manage their diet for diabetes and cardiovascular problems, thus preventing further complications such as another amputation.
We see a day when Angela's grandchildren will have access to digital health solutions including effective diagnostics, meaningful education, and enhanced distance health.
We see a day when this is possible because her community is finally equipped with the high-speed internet that we all take for granted every day.
We see technology as a holistic component of health care for rural and remote communities and their residents.
We see improved access to and outcomes of health care.
We see efficiencies and synergies.
We see better ways to support this research.
We see an opportunity to secure funding, to partner with other institutions, to engage clinicians, and to cooperate with Indigenous community leaders to conduct impactful research.
We see Angela and her family, and we are inspired.