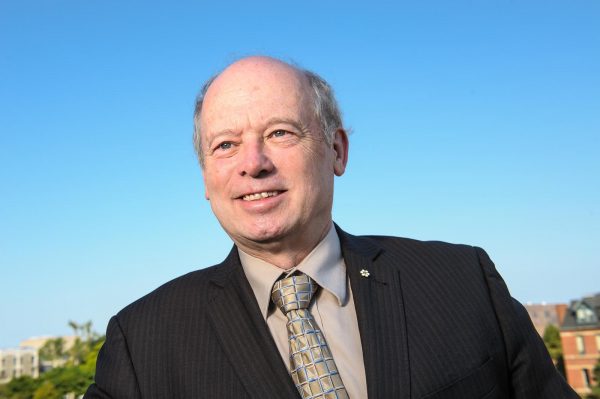 Health Research Institute and Hospital host 2nd Annual Research Day
After a successful debut in 2018, a local event designed to showcase health research returns for another year.
The second annual Research Day is taking place on Friday, October 4th, 2019 at Thunder Bay Regional Health Sciences Centre (the Hospital) and will offer valuable information, skills-building and networking opportunities for anyone interested in health research. Research Day is proudly presented by the Thunder Bay Regional Health Research Institute, in collaboration with the Hospital.
Research Day will be open to all staff at the Hospital and Health Research Institute as well as physicians, health practitioners, staff of our partner organizations and to interested members of the public. The theme for this year's event is 'Moving Research to Patient Care: From Bench to Bedside'.
Highlights of this event will include a special keynote presentation from Dr. Patrick McGrath, a panel discussion, research presentations, interactive workshops, poster presentations, lunch and networking.
About Our Research Day Keynote Speaker
Dr. Patrick McGrath OC, PhD, FRSC, FCAHS, is a clinical psychologist, scientist, senior health administrator and social entrepreneur.  He currently is Emeritus Professor of Psychiatry, at Dalhousie University and Scientist at the IWK Health Centre in Halifax, Nova Scotia.
His research focuses on two areas:  the use of technology to deliver care and pain in child health. Most of his research focuses on translating research into care. He develops interventions and conducts pragmatic randomized trials to evaluate the interventions.
He has published over 325 peer-reviewed papers, 50 book chapters and 14 books. His h-index is 94 and his work has been cited over 32 thousand times (Google Scholar). He has received numerous national and international awards and recognitions for his research, mentoring and advocacy including being appointed an Officer of the Order of Canada, being elected as fellow of the Royal Society of Canada and the Canadian Academy of Health Sciences.
Dr. McGrath was co-winner of the Principal Award of the Manning Foundation in 2013, and the Governor General's Innovation award in 2017 for the Strongest Families e-health system (www.strongestfamilies.com). He is Chair of the Board of the not for profit, Strongest Families Institute which delivers mental health care to over 7000 families each year across Canada and employs 85+ people. His newest company is 60Seconds, a novel health information strategy.
He currently leads major grants in developing and evaluating apps for Family Doctors to prescribe to their patients (Health enSuite, CIHR Foundation Grant); a coached intervention for caregivers (Province of Nova Scotia, Major Grant) and a coached program for children with neurodevelopmental disorders and mental health problems (CIHR. Child Bright Network).  In his private practice, he sees children and adults for therapy.
He has served on dozens of university, health system and national committees and currently serves as a member of the Order of Canada Advisory Committee.
Dr. McGrath will be presenting 'Translating Research to Patient Care' on Research Day (8:45 a.m. – 9:45 a.m.) in Auditorium A & B (3rd Level at the Hospital).
For more information about Research Day, visit www.tbrhri.ca/researchday2019 or contact Lisa Niccoli at niccolil@tbh.net