February 26th, 2020 by Graham Strong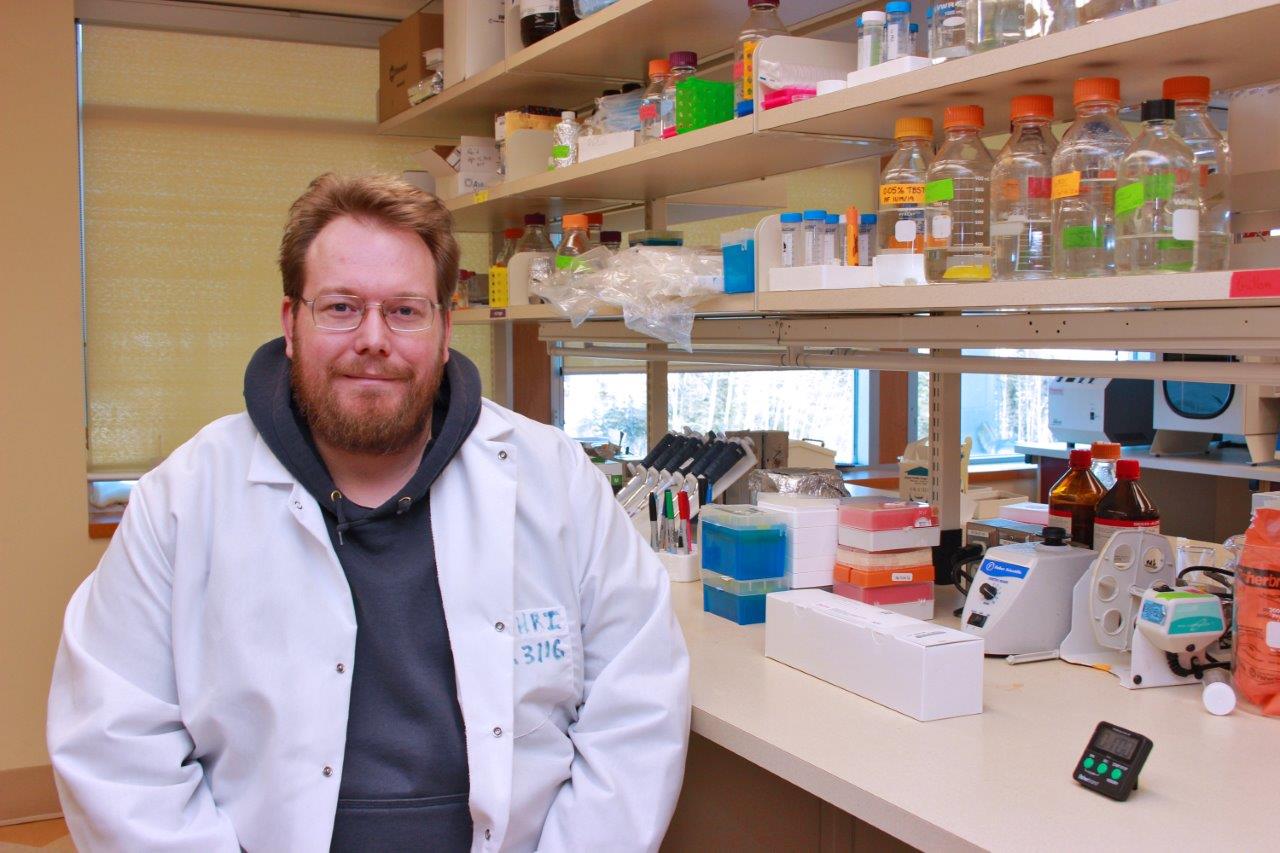 Dr. Guillem Dayer, a researcher at the Thunder Bay Regional Health Research Institute, won a prestigious Mitacs grant to continue research into new cervical cancer treatments. As part of the Zehbe Group, his research will build on the work of Dr. Ingeborg Zehbe, Dr. Melissa Togtema, and Dr. Robert Jackson into cervical cancer- and oral cancer-fighting molecules.
"The project that I'm working on will determine how we can use these molecules as potential therapies," Dr. Dayer said.
Officially, Dr. Dayer's grant is for the "development, implementation, and validation of new anti-E6 therapeutics for the treatment of HPV-associated cancer". As complicated as that sounds, the concept is fairly simple.
Cervical cancer is caused by the human papillomavirus (HPV). It is a common virus that almost all sexually active people get at some point in their lives. Most people clear the virus, just as they would a cold. An "alarm" activates and each infected cell shuts down. However, sometimes the infection doesn't go away, which could lead to cancer development.
"The more these cells multiply, the more mutations that can occur and then make things worse – it can become a malignant cancer," Dr. Dayer said.
Thanks in part to the Zehbe Group's research, we now know that a specific protein – the E6 protein – blocks the alarm in the cell. You can picture it as bank robbers spraying security cameras. If security doesn't know there are robbers in the bank, they won't know anything is wrong.
"The strategy is to target the E6 protein," Dr. Dayer said. "If we block E6, the alarm will switch back on. The cells will 'kill' themselves, if you like, before they can do any harm."
Dr. Dayer will study this approach using cells in the lab. Years from now, his research could lead to clinical trials. Treatments could use another technology developed in part at the Health Research Institute – HIFU (high-intensity focused ultrasound). HIFU helps target only affected cells. The molecules designed to block the E6 protein would be encapsulated in "microbubbles" and sent to the affected area. HIFU would heat up the bubbles until they burst, releasing the molecules. The result is personalized, more targeted treatments to improve patient care.
But that's years away. For the moment, Dr. Dayer is focused on Step 1: finding the best way of blocking E6. "This research wouldn't be possible without the support of the Thunder Bay Regional Health Sciences Foundation, TBRHRI, Mitacs and Lakehead University," Dr. Dayer said. "I would like to thank everyone who supports local research in our region."
You can help our scientists make new discoveries, too. Your donation to the Health Sciences Discovery Fund will support all of our researchers find new treatments to help patients in Northwestern Ontario. Call our Donation Centre at (807) 345-4673 or donate online at healthsciencesfoundation.ca/donate