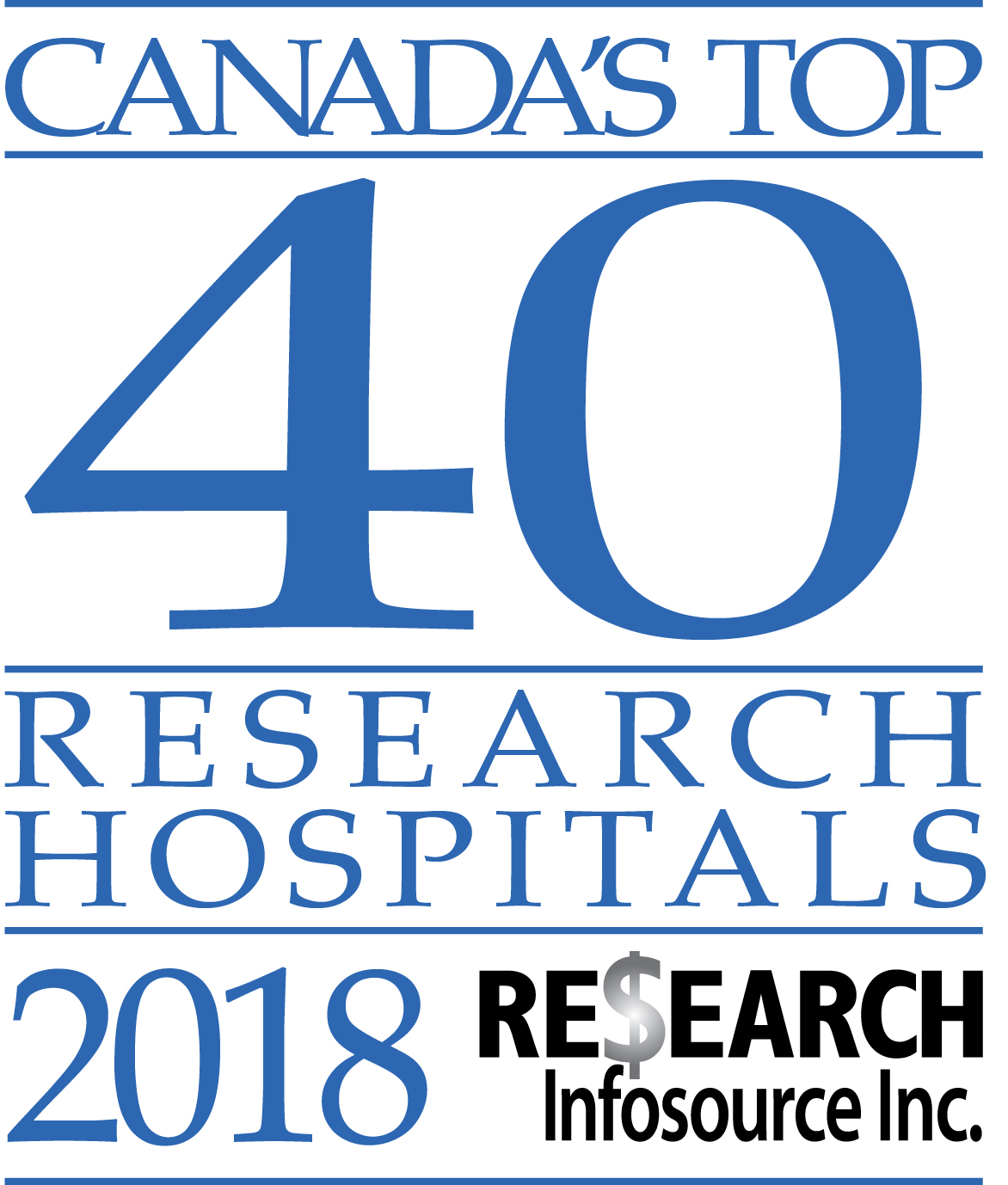 After debuting on the list of Top 40 Research Hospitals in Canada in 2010, Thunder Bay Regional Health Sciences Centre (the Hospital) continues to rank among the leading health research institutions in the country.
Eight years ago, the Hospital appeared on the list for the first time, entering at #40. This year, Thunder Bay Regional Health Sciences Centre occupies the 40th position.

Our Hospital's ranking as one of Canada's Top 40 Research Hospitals is attributed to the ongoing success of our research arm, the Thunder Bay Regional Health Research Institute, and to internal and external partnerships.

The mandate of the Thunder Bay Regional Health Research Institute is to facilitate health research – particularly in the area of technology and related innovations – strategic to regional health care needs. Current research areas include but are not limited to cancer, cardiac disease, stroke, orthopaedics, Indigenous health, lung disease and smart health technology.
"To continue being recognized as one of Canada's Top 40 Research Hospitals is not only a great accomplishment for our Hospital and Health Research Institute, but also a source of pride for our community and the stakeholders and donors who support us", said Jean Bartkowiak, President & CEO of the Hospital and CEO of the Health Research Institute. "Our research aims to improve access to timely, safe, quality patient care in Northwestern Ontario and to make our region healthier, wealthier and smarter."
A robust health research program is vital to advancing our academic mission and even more importantly, to improve the health of the population. It provides patients with the opportunity to participate in research activity that helps design the care of the future and to access equipment at the frontier of health technology development.
"Our Health Research Institute is an integral part of our academic health sciences centre that allows the cross-pollination of scientific questions and ideas to address regional population health challenges significant enough to sustain a strong research program," said Bartkowiak. "Working together with academics, scientists, clinicians, funding agencies and partners helps us develop a truly Northwestern Ontario research program that is patient-centred."
The health of people in Northwestern Ontario, is compromised due to geographical remoteness, social determinants such as poverty, and insufficient alignment with local cultures. For example, the rate of amputations of Indigenous people in Northwestern Ontario is about three times higher than that of the general population, likely due to delayed diagnosis and difficulty in accessing close to home treatment of chronic diseases such as diabetes.
Health research in the north is needed to address these challenges, such as how to make health services as accessible as possible for Indigenous people in northern Canada. The Hospital and the Health Research Institute are prioritizing accessibility, partly by leveraging smart (and digitally interactive) health technology such as mobile apps.
"Smart health technology research can assist in overcoming several of Northwestern Ontario's geographical barriers and cultural differences that impact access to care and outcomes," said Anne-Marie Heron, Acting Executive Vice President, Research and Development at the Hospital. "It can help us streamline and improve access to care so that we are able to provide the right care to the right person at the right time, no matter where they live in the region."
The Health Research Institute's current strategic plan reinforces its focus on patient-centred research. The 2020 Strategic Plan highlights three major directions:
Healthier: Enhance research to improve the health outcomes of the people of Northwestern Ontario and beyond; Wealthier: Enhance philanthropic and other support and generate revenue through science and partnerships; and Smarter: Enhance the academic environment.


These directions will address the Health Research Institute's vision of 'bringing discovery to life'.

To learn more about the Thunder Bay Regional Health Research Institute and its 2020 Strategic Plan, visit www.tbrhri.ca. To learn more about Thunder Bay Regional Health Sciences Centre, visit www.tbrhsc.net

The Top 40 list is a compilation by Research Infosource to emphasize the very important role that hospitals play in Canadian medical research. Canada's Top 40 Research Hospitals List 2017 is available on the Research Infosource website: http://bit.ly/Top40ResearchHospitals2018