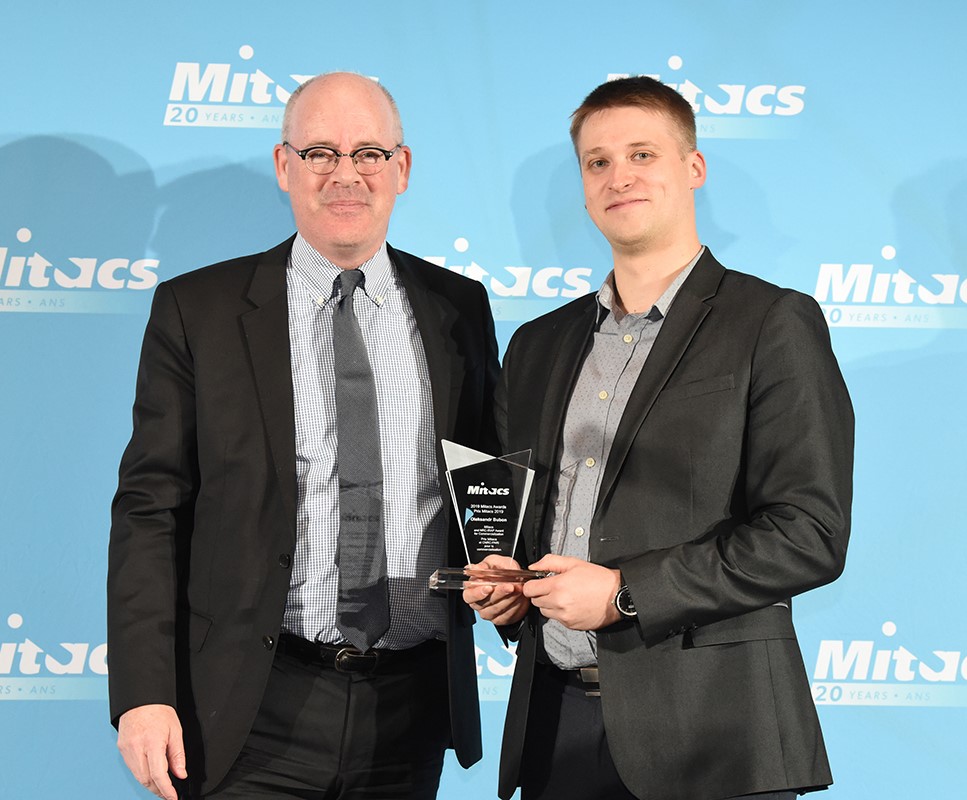 An up-and-coming researcher at Lakehead University, with strong ties to the Thunder Bay Regional Health Research Institute, has been recognized for his innovative work to develop a cutting-edge medical imaging technology that delivers high-resolution pictures at a much lower dose of radiation, providing a breast-imaging alternative to mammography, positron emission tomography (PET) scan and other imaging devices.
The breakthrough work has earned Oleksandr Bubon the Mitacs & NCR-IRAP Award for Outstanding Commercialization, awarded by Mitacs, a not-for-profit organization that fosters growth and innovation in Canada for business and academia. The award was presented at a ceremony in Ottawa on November 26th, 2019.
Bubon — a postdoctoral fellow studying at Lakehead University under Dr. Alla Reznik, Canada Research Chair and Scientist at the Health Research Institute — is being recognized for developing a novel solid state imaging technology that exposes patients to 10 to 15 times less radiation than traditional PET scans. At the same time, the technology delivers highly sensitive, accurate images that can detect extremely small tumours in their earliest stages of cancer, particularly in women who have denser breast tissue than average.
"It is an honour to receive this award and have my research recognized in this way," said Bubon, who serves as Medical Chief Technology Officer of Radialis Medical, a joint venture of Lakehead University and Thunder Bay Regional Research Institute co-founded by Bubon and Reznik in February 2016. "There is a huge need for this lower-dose, high-resolution imaging device and we're only just beginning to see the incredible potential this technology has."
The technology is currently being developed and tested by Radialis Medical. The latest prototype — a fully enclosed system on wheels — is in clinical trials at Princess Margaret Hospital in Toronto with validation results expected to be available before the end of the year. The company is now working to scale its manufacturing and quality control efforts, and expects to be firmly established as a medical device manufacturer ready to seek FDA and Health Canada approval by mid-2020, Bubon said.
The Mitacs & NCR-IRAP Award for Commercialization is presented to a Mitacs intern for an idea brought from research that is either on the market or soon to be commercialized. Bubon is one of eight Mitacs award winners nationally, chosen from thousands of researchers who take part in Mitacs programs each year. The remaining seven recipients were recognized for outstanding innovation or exceptional leadership in other areas of research.
"Innovation in Canada continues to be inspired by the groundbreaking work of up-and-coming researchers that touch all industry sectors and help to fuel the economy," said Jennifer Wilkie, Mitacs interim CEO. "Their achievements are truly remarkable and Mitacs is honoured to support them, and broker important connections between industry, post-secondary institutions and government that make their leading-edge work possible."
"We know that employers are looking for students and graduates with real-world experience so they can make an immediate impact in the workforce," said Ross Romano, Minister of Colleges and Universities. "By working with Mitacs to support experiential learning and the innovative work of researchers like Oleksandr Bubon, we can help more people get the meaningful, hands-on learning opportunities they need to secure good jobs and support Ontario's growing economy."
For more information about the Mitacs awards and a full list of winners, visit www.mitacs.ca.